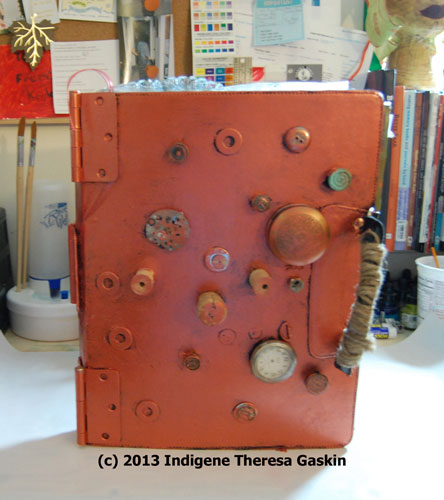 Let's see…what's been happening in my world in the last six months:
I moved;
My daughter graduated from high school and is now in her freshman year in college;
My son moved to Austin, TX;
I started I a new part-time job (non-art related);
Setting up my Studio Nookery…again'
We are now semi-empty-nesters!
So I've been a little busy!
I've worked a lot in my art journal. It's my "go-to" place, when things get hectic or out of control or any of my whatever moods. When life was at its most hectic, it's my go-to option. I'm often asked what about this is so inspiring and what keeps me doing it. So if you're wondering, if this is for you or if it`s something that will take up too much of your creativity or not, here are some of the things that it continually helps and supports me with:
It`s art practice in a safe free style/way, practice keeps adding to your

art skills;

It`s a tried and true friend that keeps your secrets;
Keeps record of your journey, your feelings, thoughts and colors of the seasons of your life;
It's no pressure;
It can become a source of inspiration for larger projects;
It helps to "let it all out", hard life stuff, great life stuff and gives your mind a release;
It opens new ways to be creative through non-traditional art making
It helps organizing thoughts
It`s creative time and gives a lot of value and strengthens your life
It`s a great surface to experiment in, try new ideas or put at practice new techniques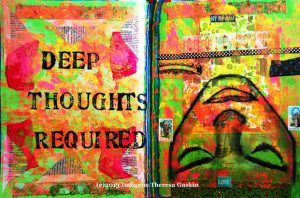 Every creative practice adds to your artistic journey, I used to think,it was better to work on a canvas, but over time I've realized that restricting in art activity wasn't allowing my desires of exploration to be fulfilled (and very restricting). I want to feel free with my art and because art is not about the surface, it is an expression of the soul. It is a way of allowing your soul to manifest into an artistic expression, a way to share yourself in a visual form that expresses your life and its unique experiences.
Now that I have a somewhat less hectic schedule, I hope to be blogging and sharing more of my artistic life.
What's happening in your world? How are you expressing it?