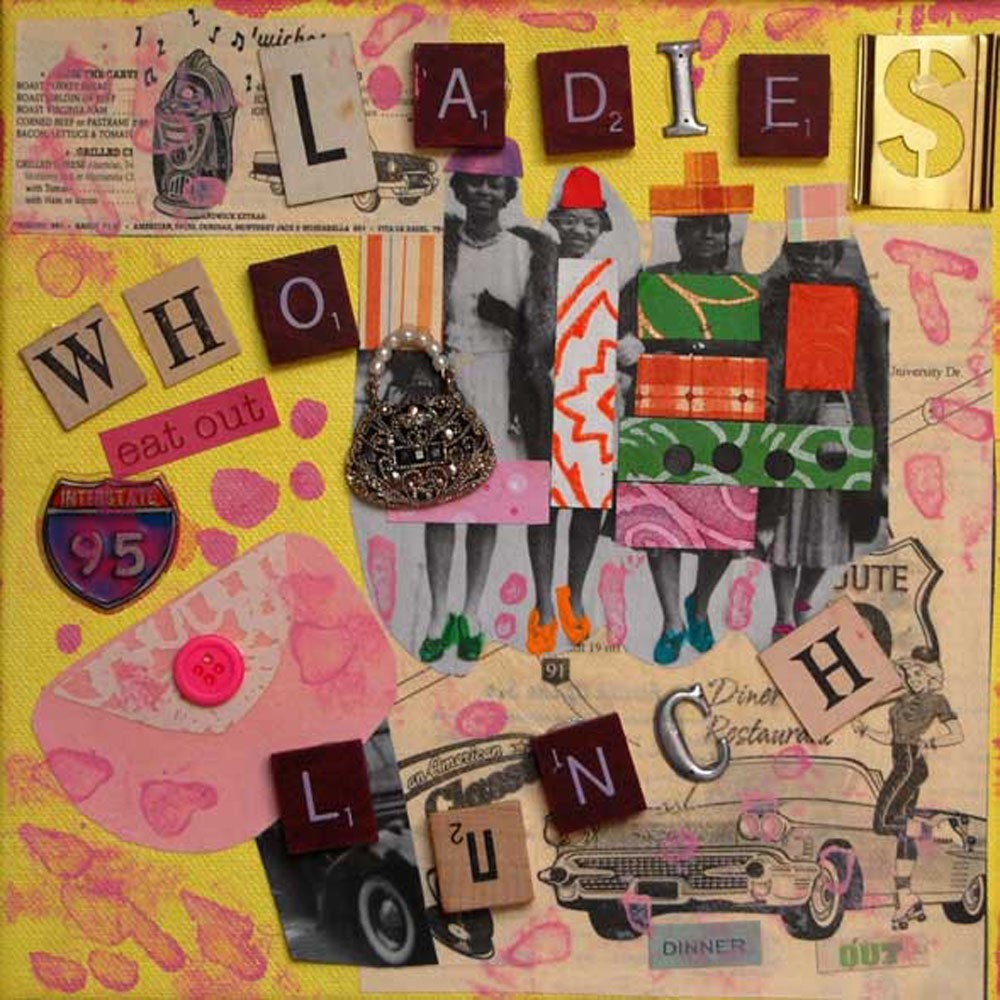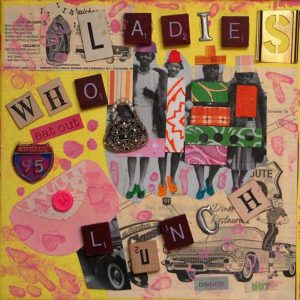 Helen Davey, a wonderful musician has created a project which she calls Project 52, which is 52 pieces of music in direct response to 52 artworks shared by 52 different artists for 52 weeks.
Every week one artist's work will be featured, together with corresponding "Sound-Painting" music,  Helen Davey created (and performed) specifically for the artwork.
This cross-arts project can be viewed as a series of online events so you can enjoy it no matter where you are!
Click here to hear the "Sound Painting"



This art was inspired by my childhood memories of my grandmother. It was created from two vintage photographs, I imagined my grandmother in Springtime colors, and going out with her lady friends for lunch. These ladies who lunched during her time, would not have been welcome everywhere, but didn't allow that to stop them from having fun.
This piece started out with layers of acrylic paint, vintage papers, 1950's menu, vintage handbag charm, plastic/paper stickers, old photographs, inks, button, cardboard letters, metal and vintage scrabble wood letters, on an 8" x 8" x 1.5" gallery-wrapped canvas. Text, symbols and images float above and below the surface. There are many small details to discover in this piece!
Here's what Helen Davey had to say about my art and "Ladies Who Lunch"
"I find Indigene's artwork refreshing and loved that most of her work reflects many facets of women's lives. This piece is pure fun – but I was moved by the story behind it, so I chose a blues feel  to structure my response. I enjoyed delving into the girly energy – in fact, I almost wrote a piece about handbags and colourful shoes – but settled for a comment about buttons instead. (I do so love buttons!)."
For more information about Helen Davey, where to purchase the music to this art:
I think my grandmother would have loved the art and the music, what a beautiful tribute to her and the ladies she lunched with all those years ago!
From my wildly creative passionate soul to yours, in peace.