I am not moving forward with my goals this week. I paused. Fear crept to the surface. I just walked away from the fear. I tried to push the it down…It is helpful to talk to my fears, if I can manage to be compassionate with them. If not, my insides turns into a war of the worlds scenario and I have a melt down. I have no compassion for fear right now. All I have for it, is anger and frustration.
The thing is, I thought I was done with fear.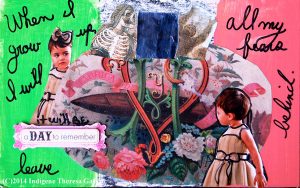 Done! I have no patience for it and I have no time for it. The facts show there is no reason for it. Yet, it persists – why?
My soul whispers to me, "Because it's a fear. Fears are unreasonable, they do not care about facts. They do not go away, simply because you're ready for them to go!" So, when my soul whispers, I listen. I did what, I did not want to do. I walked back to the fear and opened myself up to it.
I spent time with my fears.
Spending the last couple of days with my fear meant that finally, instead of more fear growing beneath the surface – I created space. A space for growth, possibility and inspiration.
I LISTEN TO THE WISDOM OF MY SOUL.
Taking time to spend with my fear always moves me forward faster than pushing the fear away or pretending it's not there or avoiding it.
My ego always resists it. I work on anything, to keep from working with my fears. So, the work continues and I'm moving forward with fear as a passenger on my journey. Courage is doing the driving.
How do you handle fear? What has helped? What hasn't? I'm always open to hearing what others have to say.
Peace to you and yours.